Jul 7, 2021 | Enrolment, School News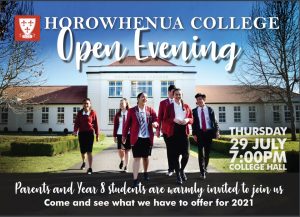 The new date for this year's Open Evening has been set. Come along and see what we have to offer for 2022. Thurs, 29 July 2021.
read more
Apr 30, 2021 | School News
The college was very pleased at its last Board meeting to co-opt Jhyslle...
read more
Please see the house points for this year below:
| Event | Points | HINAU | KOWHAI | NGAIO | RATA |
| --- | --- | --- | --- | --- | --- |
| Year 9 Trig | 10 | 8 | 6 | 10 | 4 |
| Y9 Tabloids | 10 | 6 | 9 | 4 | 9 |
| Tug-O-War | 30 | 30 | 24 | 12 | 18 |
| Y13 Camp Beach Activities | 10 | 10 | 4 | 8 | 6 |
| Y13 Karaoke | 10 | 8 | 6 | 4 | 10 |
| Academic Results 2020 | 30 | 12 | 18 | 24 | 30 |
| Swimming Sports | 50 | 30 | 40 | 20 | 50 |
| Athletic Sports | 50 | 20 | 40 | 30 | 50 |
| Pastel Art | 10 | 8 | 4 | 6 | 10 |
| Junior Dodgeball | 10 | 6 | 8 | 4 | 10 |
| Senior Dodgeball | 10 | 4 | 10 | 8 | 6 |
| Spelling Bee | 10 | 4 | 10 | 8 | 6 |
| House Video | 10 | | | | |
| Colouring In Competition | 10 | 10 | 6 | 4 | 8 |
| SVA | 10 | | | | |
| Peer Support (newspaper) | 10 | 4 | 8 | 10 | 6 |
| Cross Country | 50 | 20 | 50 | 30 | 40 |
| Flag Assembly Quiz | 10 | | | | |
| Senior Chase | 10 | 8 | 4 | 10 | 6 |
| Junior Sport Futsal | 10 | 4 | 10 | 6 | 8 |
| Senior Sport Futsal | 10 | 4 | 8 | 10 | 6 |
| 40 Hour Famine | 10 | | | | |
| Junior Chase | 10 | 10 | 4 | 6 | 8 |
| Haka | 50 | | | | |
| Chess Competition | 10 | 4 | 6 | 8 | 10 |
| Library Competition – Murder Mystery | 10 | | | | |
| Senior Sport Unihoc | 10 | | | | |
| Junior Sport Unihoc | 10 | | | | |
| Winter House Sports | 30 | | | | |
| Reading Challenge | 10 | | | | |
| Cultural Catwalk | 5 | | | | |
| Shave for a cure | 10 | 8 | 10 | 4 | 6 |
| Maths Week Competition | 10 | 4 | 6 | 10 | 8 |
| Totals | | 222 | 291 | 236 | 315 |