Jul 7, 2021 | Enrolment, School News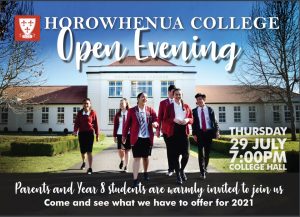 The new date for this year's Open Evening has been set. Come along and see what we have to offer for 2022. Thurs, 29 July 2021.
read more
Apr 30, 2021 | School News
The college was very pleased at its last Board meeting to co-opt Jhyslle...
read more
Board Updates
Keep up to date with our board discussions below.
Sep 20, 2021
Tēnā koutou katoa I do hope you are all managing well in your respective bubbles. We certainly didn't imagine at our previous board meeting, that we would be having our next meeting on Zoom!  Not surprisingly the focus of our board meeting was an update on the Covid...
read more